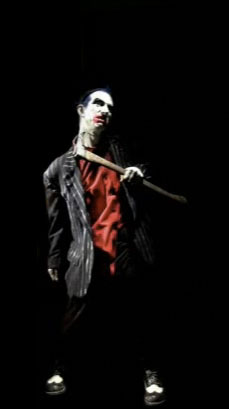 Conceived in the grey cement sprawl of industrial downtown Los Angeles and birthed in the dust & glitter of Burning Man Cirque Berzerk has been described by the LA Times as "the sort of phantasmagoric spectacle Tim Burton would dream up, if he quit filmmaking to join the circus."

Sexy, dark, gothic, fun & daring with a nod to the tradition of the American dust bowl circus, a serious crush on rock and roll spectacle, and an affair with the fashion of the Weimar Republic's Cabaret scene, Cirque Berzerk put a new face on American circus.

Cirque Berzerk has performed all over the United States including 2 successful runs of it's critically acclaimed show Beneath here in Los Angeles. Cirque Berzerk launched Beneath as a tent show for an extended 7 week run in the summer of 2009 and then in January of 2011 transformed the tent show into a proscenium theatre show for an extended 4 week run at Club Nokia in partnership with AEG and Golden Voice.

Besides touring with it's full length theatrical circus show Cirque Berzerk can be found flying high above both private & corporate events providing custom shows for both national and international clients including Sony, MTV, The Pollstar Awards & Spike TV Network. Cirque Berzerk also brings smaller tent shows to music festivals all over the US including the Forecastle Festival in Louisville, KY and the Health and Harmony Festival in Santa Rosa, CA.



David Berrent
CEO & Managing Partner

David Berrent is a multi award-winning executive producer and show creator who brings, to Cirque Berzerk, more than 20 years of experience creating and overseeing blockbuster successes in premiere live entertainment and filmed programming.

Berrent has spearheaded mass-scale live productions of every entertainment genre -- comedy, sports, reality, concerts, magic, children's, animals, game shows, awards shows and news specials -- including numerous live concerts and events for MTV and VH1, live comedy series and specials for Comedy Central, magic specials with David Copperfield, global news events with Peter Jennings, and Howard Stern's first live New Years Eve special – then the most profitable pay-per-view program in history.

Berrent has executive produced programming for nearly every major television network and cable channel, including ABC, CBS, Fox, Lifetime, A&E, TLC and many others. Most recently, The Locator, Women's Entertainment Networks' newest and highest-rated series ever; Rollergirls, A&E's reality-drama sports sensation series, and Comedy Central's 100 Greatest Stand-Ups of All Time special series. He produced the multi award-winning feature film, Cross Bronx – winner of the 2004 Tribeca Film Festival.

One of the first employees and early start-up architects at MTV Networks, Berrent has helped launch major new and ground-breaking entertainment entities, including Spike TV: The First Network for Men, and G4 TV, serving the technology and video games audience.

Berrent is known for his instincts for pop cultural phenomena, his edgy and engaging sense of style, and his proven gift for unleashing creativity, while containing costs. He is the winner of the highly prestigious George Foster Peabody Award, which honors distinction in entertainment programming, as well as numerous Emmy, Cable ACE and other global awards.

Suzanne Bernel
Co-Founder & Artistic Director

Suzanne has been trying to join the circus since she was 4 and would leave home with a hankerchief tied to the end of a stick filled with a few snacks and announce to her family that it was leaving home to join the circus. As it turns out she opted to stay in Los Angeles and study dance and gymnastics, and at age 16 she was accepted to study with Ballet Aspen.

She studied theatre and dance at SFSU, received a BFA in photography and sculpture from the San Francisco Art Institute and an MFA in studio art from UCSB where she taught both photography and performance art. Suzanne's visual art has shown extensively through out the United States and Europe.

Suzanne found the circus to be the perfect blend of performance and visual art and lead the charge with her partner Kevin Bourque in 2004 to begin Cirque Berzerk.

Suzanne has had a successful career as an aerial and fire performance artist and a special event show producer, creating visual stage shows for clients including MTV, Spike TV Network, Sony, Cirque Du Soleil, Les Claypool & Primus, and music festivals including the Harmony Festival in Santa Rosa, CA and the Forecastle Festival in Louisville, KY. She has toured the US with performance rock band Mutaytor and created and performed two original solo aerial pieces for Mass Ensemble's 2008 shows in Hong Kong.

In Cirque Berzerk Suzanne is one of the artistic directors, writers, producers and in Beneath plays Death's wife performing aerial silks, aerial bungee, lyra and fire eating.

Kevin Bourque
Co-Founder & Artistic Director

Kevin is a multimedia artist who has been working in visual arts and music for the past 21 years.

As a director, he won numerous awards including best Short Comedy at the Chicago Film Festival.He created music videos for the likes of Fishbone and Michael Penn.

He's an Emmy award winning editor working in broadcast television and film for the past 15 years (everyone has a day job), working on projects as diverse as a documentary about Abortion Rights for The Feminist Majority to The Maxim Hot 100 Countdown, The Victoria's Secret Swimsuit Special and Hillary Clinton's campaign film for US Senator.

As a Musician, he performs with the internationally renowned band The Mutaytor. He has also composed music for television specials including BREAKING THE NEWS on CBS. He composed and performed most of the music for the band SKIN and created the visual content for each song (finally he gets to combine all of the arts in one project). He has also created visual projection work for use at festivals such as Coachella.

He is currently writing most of the music for Cirque Berzerk's show BENEATH, creating much of the audio and visual content and performing in the troupe as The Ring Master.

Neal Everett
Co-Founder & Artistic Director

Neal Everett is originally from Texas where he was first amazed by the circus and begged his parents to let him leave with the small circuses that came to town each year. He is a graduate of the University of Arizona where he was a Captain of the cheerleading squad. Neal danced and acted throughout his college career with Ballet Tucson, The Ballet Arts Foundation, The Acting Company, and the University's dance ensemble.

Upon moving to Los Angeles he immersed himself in aerial training and began performing internationally with such companies as Eye of Newt Circus, Anti-Gravity, Gateway Playhouse, Circus Vargas, and many more. Neal has made numerous appearances in film, television, commercials and has had the opportunity to workshop Spiderman the Musical for Broadway. He is most proud to be one of the creators and performers of Cirque Berzerk.